Kris Kross Quilted Lunch Bag – Free Pattern
Hi my loves! Let's make this week amazing? So stay here with us to learn a new model. The Kris Kross Quilted Luch Bag is a really cool pattern to make. Beautiful and with a simple pattern, you will love making and having a lunch bag like this. This is another pattern where you will practice some of your sewing skills. If you're not used to sewing yet, don't worry.
Stay here with us and check out all the tips and instructions that are in the pattern. The lunch bag is perfect to take with you on different occasions. You can take it to work, course, make one for the kids to take to school. It's amazing and it's a bag that lasts a long time if taken care of. To prevent food and drink stains, you can put a layer of waterproof fabric on the inside.
This ensures that the bag will stay dry and clean even if accidents happen. The colors of the lunch bag are very beautiful, classic colors that combine very well with each other. In this pattern, the designer chose to use plain fabrics and a single print, but very discreet. If you want to follow the same style, the fabrics are described in the pattern and can help you when choosing.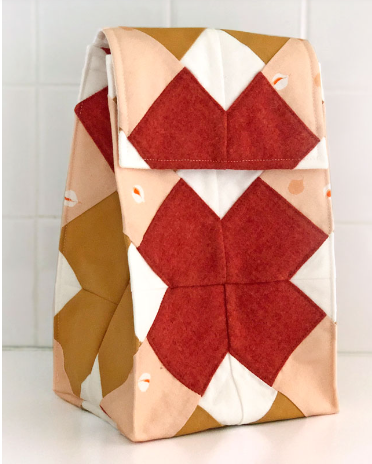 Image / Pattern / Tutorial: Suzy Quilts
As for quality, don't use very weak fabrics. We always carry a little weight inside these bags. Quality fabrics are not the most expensive in the store. Choose one that, even after sewing and a few washes, is still beautiful and maintains the shape of the piece. To make the kris kross quilted lunch bag you will need:
Fabric – 1/8 yard each of any four colors;
Lining – cotton or ripstop nylon, 12″ x 30″;
Batting – 12″ x 30″;
Spray baste or basting pins;
cutting mat;
Quilting ruler;
Rotary cutter;
scissors;
Sew-on Velcro – about 8″;
Sewing pins (or binding clips if you're going to use ripstop nylon for the lining).
Excited to get started? The kris kross quilted lunch bag pattern is available from Suzy Quilts, with measurements and photos of every step. If you have any doubts, let us know in the comments.