I particularly liked this pattern and found the fabrics attractive. It was filled with a leaf pattern and freehand lace.
Dahlia blooms in a multitude of colors and the same burst of flowers can be captured in a quilt. A modern design that fits in almost any décor, is also impressive in a traditional setting.
It's fun and creative from start to finish, taking a surprisingly short time to get the top of the Giant Dahlia quilt and see the "flowering" of Dahlia.
Today we will learn a pattern of patchwork, let's make a gorgeous quilt pattern called Giant Dahlia. This quilt pattern is very beautiful, but it is difficult to do, it is not a beginner level, but nothing that much persistence, patience and dedication is not enough to make this gorgeous dahlia quilt.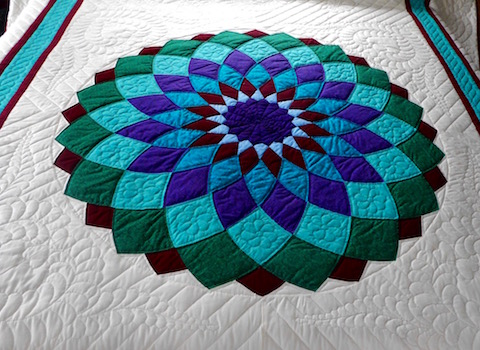 Stitched curves are made, which you should properly do with care and attention to create this design. Choose a high quality fabric, wash everything before use and also pass which will help you when sewing.
Once you choose the colors that will be your design, your favorite color, I love the color pink, blue and purple, I think these colors are beautiful in bloom and you can also choose the tone in the tone of the fabrics.
Variations are achieved by color placement, even a beginner can do. It's a lot of fun and a new creative experience using a color chart to identify the different petals and see how they relate to each other.
The largest petals will be dominant, but even the tiniest petal may be the secret to an exciting "Giant Dahlia" quilt that can be used to make wall hangings and even baby bedspreads. A great design to play with colors and design.
A good guide is also to choose a color scheme and repeat it twice with different values ​​of the same colors. Soft curves are fast for hand or sewing machine.
The quilt shown is sewn in both solids and prints, and the medallion is enclosed with a decorative border to highlight the Giant Dahlia. The edge of the Giant Dahlia quilt should repeat at least one fabric of the Dahlia medallion. Hand-blown daisy flower bedspread on petals.
EXAMPLE OF SIZE
An example of the size of the Giant Dahlia is a 56-inch circle and will have a 15-inch circle in the middle. I leave the images as always inspired by the colors and just below the free standard for you with step by step, good job.
A quilt is a work of art made by the method of padding. Padding is a craft of sewing pieces of cloth together to form a quilt with a design pattern or other items from home.
Padding can be a fun and rewarding hobby. Can be done alone, with others or in a group. Here's how to get started! If you are looking for a Dahlia Quilt Pattern For Sale on amazon you can find several patterns Here.