Patchwork Storage Cube – Free Pattern
Hey loves! Long time no talk, we already missed you. Don't think that we stopped, during this time our team continued to separate new patterns and ideas to share and learn together with you. For you who love handmade decoration and need new tips to better organize your home, we have a great craft suggestion. Today's idea is the patchwork storage cube, a tutorial that will teach you how to make this object that helps us organize things in our house.
You can use them to store toys, books, clothes, cables, pillows. There are countless uses and with a very light price, just creativity and following the care that the artist teaches. After all, making your own organizing boxes is a very economical activity. You will need materials you have at home and spend much less compared to buying in a store.
And this box is very beautiful and can be part of the decoration of the environment. Just match the color and prints of the fabrics with the colors of the environment. If you have space on the furniture, take the measurements and make a box that fits in that space. It makes everything even more organized. You can place the handles in the same way as in the pattern. It is a great option for children to participate and help with the organization. They can pull out boxes, pick up toys and take them all together. Make a box with themed fabrics so they know which ones are theirs.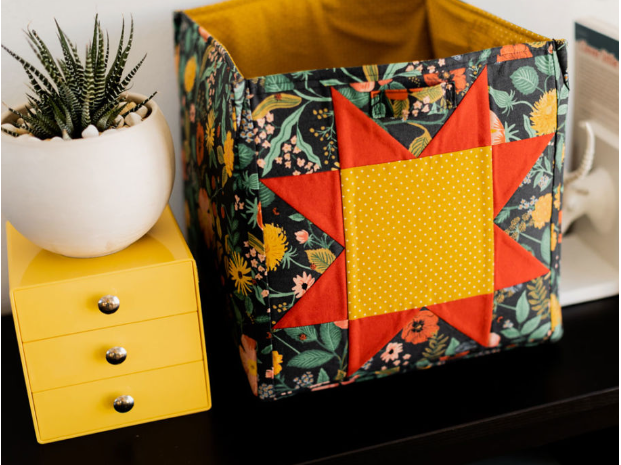 Image / Pattern / Tutorial: Suzy Quilts
Patchwork Storage Cube Pattern
Here are the materials you will need:
Patchwork Storage Cube Tutorial Supplies
Simple sewing machine;
Thread;
Cutting mat;
Ruler;
Rotary cutter;
straight pins;
iron & ironing board.
Optional Supplies (that'll make things easier)
Wonder Clips;
Disappearing ink pen;
Best Press starch;
Wonder Clips Walking foot for sewing machine.
Fabric Requirments
Exterior Fabric (canvas or home decor fabric recommended): 1 yard;
Lining: 1 yard;
Fabric for 12″ Sawtooth Star block – requirements listed here;
Pellon Flex Foam 2-Sided Fusible Stabilizer (FF78F2) 20″ width of bolt: 2 yards (you can also use a similar fuse or sew-in stabilizer).
To help in this moment of art and therapy, we are going to leave here the pattern for you to learn how to make the patchwork storage cube.