Let's move on to another wonderful patchwork world pattern to make a fabulous quilt made by you. One more of the news I said I had several and brought it to you.
This will be on the standard Log Cabin Echoes. It is a pattern that looks like geometric figures, squares inside the other that gives a 3D image look, which by the way looks very beautiful and modern.
One more standard option to make, so let's choose your work to be done. I really like the craft and the patchwork is very varied in terms of pattern to make because we can resize or shapes making so new pattern, every piece of cut and sewn fabric will change the end result of your work.
Then prepare your materials and work with your hands. take the fabrics to wash, and choose pass so that they match with each other to give a good result, choose the colors, tone on tone looks fabulous, and get the job done. It's super super easy.
Just a lot of piecing. But again, that gave me another scratch on my smallest blues. As I used the whites / creams as a backdrop, I was able to use some light blue in the dark part – which made it easier to find the parts I needed.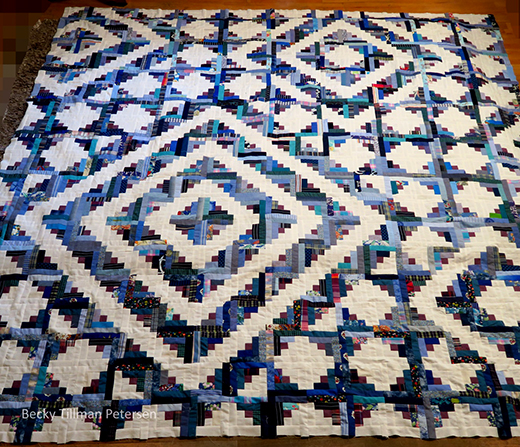 So I decided to help myself by starting to piece together. I put the first two lines together – then made a few more blocks and put the next 3 lines together.
,Then, close the next 100 blocks and place the next 5 lines together. By this time, I was getting faster at making the blocks – and more slowly at finding usable pieces – pieces with enough to cut 5.5 "strips.
I had to dig in my box of medium / dark blues that I had not used it yet-and it made it faster to cut larger pieces, and so on.I was able to finish this top a few days ago.
You can go riding, sewing up the size you want the quilt or rug, or ornament to put on the wall to decorate the environment. I want you to like it because it has a great result, have fun doing that pattern, you are capable. Good work and up to the approach.
I hope you enjoy it as much as I do. I tend to like those that involve more heavy patches than the ones I can shake faster. I think it's because I like the complexity of the visual.
I have not come up with thumbnails yet, but if I did it would be great. I have a lot of fabric and I do not have enough patience to try miniatures!
And that's what's happening in my part of the quilting world!
Pattern Free ▶ Log Cabin Echoes ◀