Crochet Backpack – Red Heart Patch Pattern
The crochet backpack is a versatile piece that you can make with various types of thread. Everybody can use children, adults, and serves for the most diverse occasions. Cotton yarn, which we usually use to make clothes, crochet puppies and other objects, can also be made to make backpacks.
The crochet backpack is perfect for carrying your belongings and still complementing the look. You can use to carry personal items, to go to college. In addition, it is a practical item. You can choose colors as per your style. If you want a piece that matches several looks, opt for more classic colors.
Black, grey, white, earth tones. If the goal is to bring all the attention of the look to the backpack, take a risk without fear in the most vibrant colors. Combinations with different colors are also wonderful. Use all your creativity. To make it even more unique, you can add some details. From gemstones to designs like the one in the photos. Either way, your backpack will look wonderful!
Crochet Backpack Pattern
You can determine the size of the backpack as per your need. Pattern one measures 11″ [28 cm] wide x 14″ [35.5 cm] tall x 9″ [23 cm] deep. Here are the materials you will need: crochet hook 5 mm, embroidered patches, stitch markers, 1″ [25 mm] decorative button, fabric glue, yarn needle and yarn of your choice.
Back Pack is worked in separate sections which are worked off of previous section. Pocket and Flap are worked separately and are sewn on. Pocket and Flaps are worked back and forth in rows but Body is worked in continuous rounds. Attach iron-on patches after Back Pack is finished.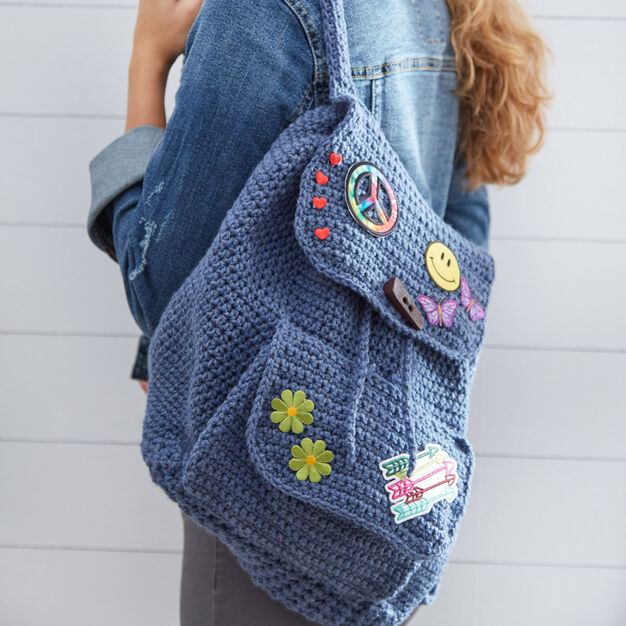 Crochet this fashion-right backpack and then personalize it with purchase patches and trims that speak to you. You will find the pattern available at Yarnspiration. Let's crochet!