Crochet Bag – Lily Sugar'n Cream
The crochet bag is a dream accessory for many women who want to wear a delicate, exclusive and very fashionable piece. Whether for social or casual occasions, you can always adapt a model to your look. Crochet bags unite the rustic with the delicate and are capable of producing incredible combinations. Crochet stitches allow for impressive variations and motifs that seem to come out of the fabric so well made.
In addition, crochet is a durable product that offers you a beautiful bag for the rest of your life. There is no reason not to fall in love with crochet bags. Because it is a handmade piece, the crochet bag is the perfect item for you to let your imagination run wild and use different shapes and colors. Crochet bags are very versatile pieces and can be very stylish and are perfect for women of all tastes and ages.
The pattern we brought you is a simple, clean bag model. If you want to give a more sophisticated touch to the piece, you can add rhinestones that will give a touch of shine to the piece. The color can also be changed. Colored bags are a total highlight in the looks. Another option is to use more than one color in the making of the piece, either by varying the colors or the tone. Gradient bags look very beautiful, you have to have one to compose fabulous looks.
As much as crochet pieces have good durability, some care is needed to keep the piece in good condition. Do not bleach, do not dry clean, do not iron, machine wash in cool water, delicate setting tumble dry, low heat, delicate cycle.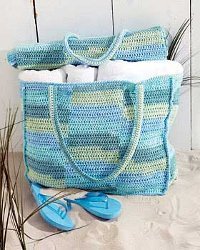 Work this roomy tote in two strands to go with you anywhere, from grocery store to beach. At 12″ x 15″ x 12″ it really does give you all the versatility, plus a strong, durable finish. If you already have more practice and want to make a smaller bag, another great option.
Check the pattern in Yarnspiration. We're sure you'll love this bag, you'll want to make one in every color. How about making a gift for your dear friends? They will love it too. Come on, it's crochet time!