Christmas Granny Square Blanket
Crochet is full of unique and different stitches and techniques that make the craft work rich and full of details. One such form, well known to the public, is squares. Follow our post to understand more about it! Squares, also known as "Granny Squares", are crochet squares that come in a variety of patterns, designs and sizes and are used in countless ways.
Even some patterns are not exactly square, which makes the technique even more fun, as it allows for many combinations. By joining several squares together it is possible to create several pieces, such as quilts, bags, pillows and even clothes, they are amazing aren't they?
In addition, large pieces such as carpets, bedspreads and blankets, because they are larger, are usually made using this technique, which somewhat speeds up the process. However, it is also possible to use a single, larger square as an item. decorating like a table centerpiece or something.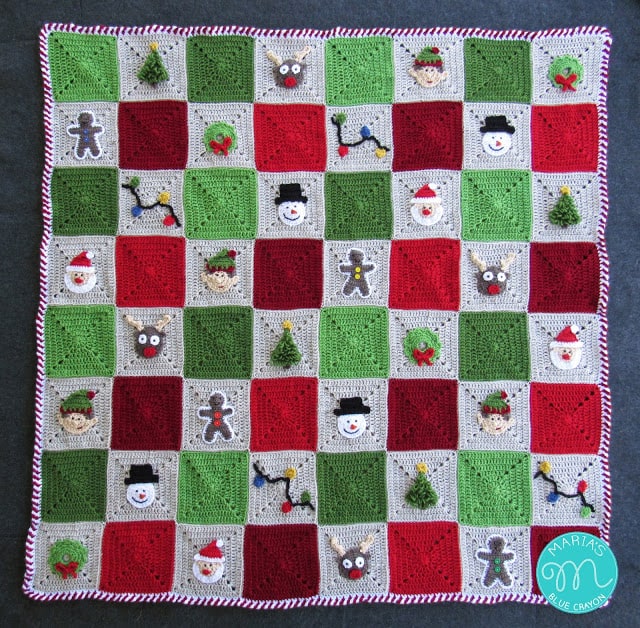 Free Pattern Available: Christmas Granny Square Blanket
Below is everything I used to make the Christmas Granny Afghan. It is not required that you use the exact materials I did, but if you do plan on using different yarn – worsted weighted yarn would be preferable and watch your yardage as different brands have different sized skeins.
All the yarn I used is Lion Brand Vanna's Choice worsted weighted yarn that has 170 yards per skein. (Keep that in mind if choosing a different brand).
8 Linen skeins (pale gray / dusty off-white)
2 skeins Fern (slightly lighter shade of green pictured above)
2 skeins Kelly Green (shade of green pictured above)
3 Cranberry skeins (dark red)
2 skeins Scarlet (red)
2 skeins White
(less than 1 skein) Black
(less than 1 skein) Taupe (brown)
(less than 1 skein) Beige
(less than 1 skein) Colonial Blue (blue)
(less than 1 skein) Mustard (darker shade of yellow)
(less than 1 skein) Terracotta (orange)
I hook (5.25mm)
G hook (4.0mm)
E hook (3.50mm)
Tapestry needle
Scissors
8 small buttons in different colors & thread and needle for attachment (for gingerbread man appliques)
40 (6mm) safety eyes (can be replaced with sewing eyes on with black yarn if preferred)
Notes: If you are using different brands and would like to use similar colors, I described some of the color names of the skeins I used in parenthesis above as some of the names aren't obvious as to what color can be substituted for.
The colors used for the granny squares are linen, kelly green, fern, cranberry, and scarlet. If you choose to make your squares different colors you will still need the kelly green, fern, cranberry, and scarlet for the appliques.
Are you enjoying it? Also check out these Free Patterns: