Tiger Security Blanket – Free Pattern
Hey sweeties! Ready to fall in love? This is the effect of today's pattern, the Tiger Security Blanket, brings us. A super cute, delicate and charming tiger. Full of details, impossible not to fall in love. This is a piece that is also part of the trousseau for the little ones and deserves all the care when preparing it. The security blanket is a piece for the baby to feel safe at all times and can be part of many moments in your day-to-day.
It serves to calm the baby and make him safer about the world around him and has this effect on the baby mainly through the smell, which reminds him of the mother. Once you do, it won't smell at all. Even before handing the security blanket to the baby, you can use it for a while so that your mother's scent starts to be felt. Delivering with your scent can be magical for your child, even if he can't show it yet.
This is because, initially, the baby will not interact with the security blanket. He will only feel the mother's presence, and a newborn's sense of smell is highly refined. The smell of mother that the security blanket starts to have has a calming effect on the baby, who feels the presence of the mother. If you're not making it for your little one, pass the same information to whoever you're buying, who you're giving as a gift.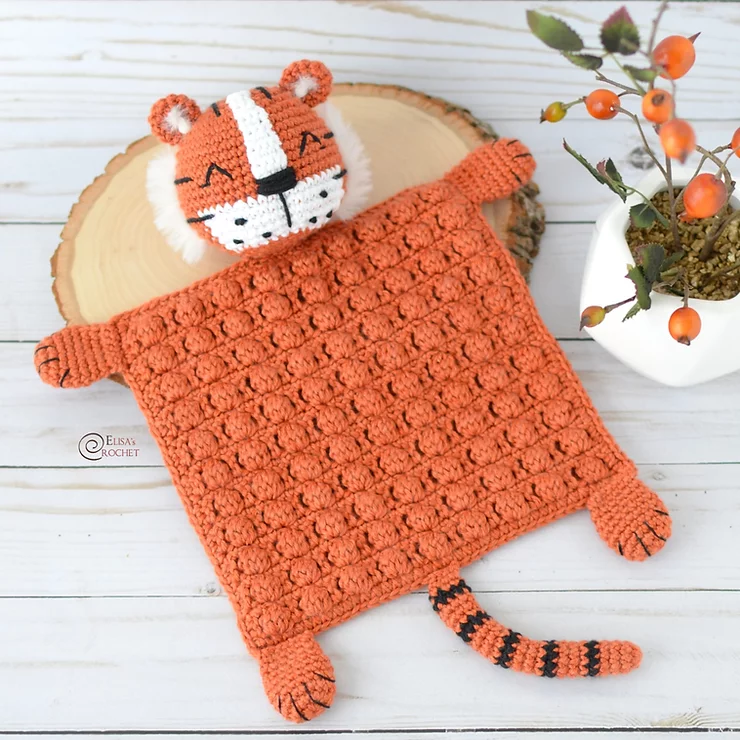 Image / Pattern / Tutorial: Elisa's Crochet
To make this piece you will need the basic materials: yarn, crochet hook, poly filling, tapestry needle. Following the instructions you will get a 9.5" x 13" (24 x 34 cm) blanket. It's a small blanket, but remember that it's not to cover the little one, but to make him feel comfortable. You will learn to make the bobble stitch, a textured stitch that also stimulates the little one's developmental sensor.
The tiger security blanket is it the easiest crochet pattern out there? No, but before you think you can't, read the pattern a first time. Is there a yarn out there, left over from another pattern? Test with this one first, feel confident and then buy the right yarn and start crocheting. Visit Elisa's Crochet to see the step by step and enjoy. Let us know what you think here in the comments.