Sophie loves Lilla Bjorn Winter Blanket
Crochet has increasingly taken up space in the world of crafts, every year creates thousands of new patterns. So having always patterns and novelties to practice and increase the skills and if you have a store that sells your jobs can make new designs to increase your sales and thus increase your profits.
Crochet never goes out of style, you will always be welcome in various types of work and pieces as it is charming.
The crochet pattern I bring in this post is known from Sophie Loves Bjorn Winter a blanket that was created by Emma Aldous.
I love blankets, simple quilts down to the most complex and full of details, endless combinations of colors, so I will always love these wonders.
Any combination of colors you put in can be sure that the end will be amazing. This quilt is sensational.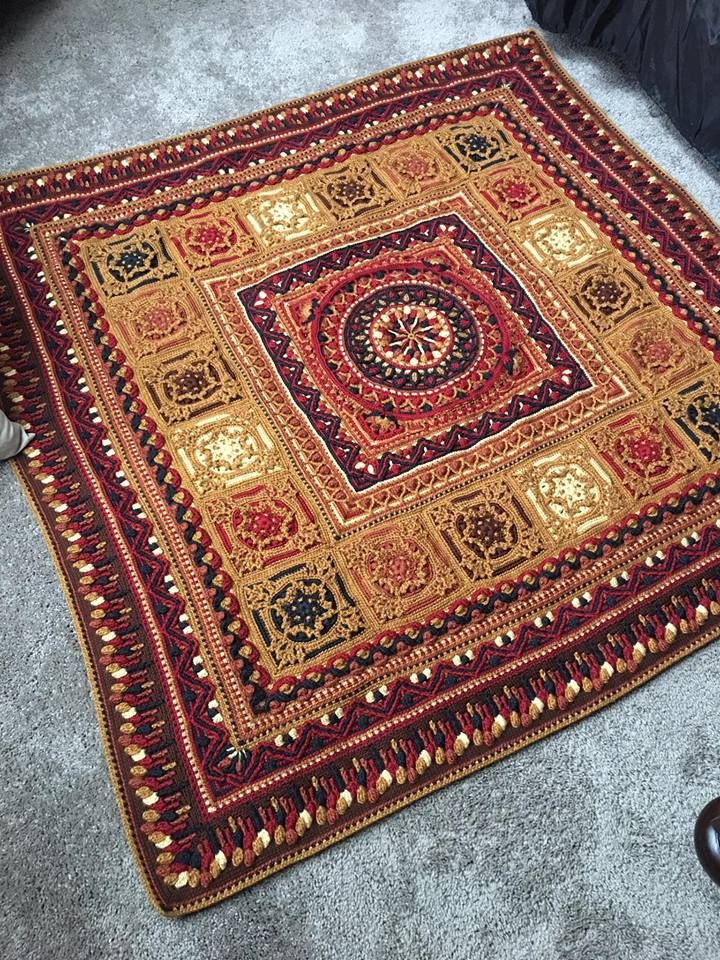 For all those who like to be always changing the bedspread, or giving quilt as a gift to someone dear this is a great opportunity, still something done by you with your own hands is very special. The quilt lasts for years and will always be beautiful, every job has a reward. This pattern is a union of patterns Mandala Dandelion, Dandelion Edge, Circles of the Sun and parts of Sophie's Universe CAL, a fantastic blend, a masterpiece.
I leave here for you the tips of Ravelry's Pattern Made by Emma Aldous – (Sophie Loves Lilla Bjorn Loves Polly Plum Winter Blanket) with all the necessary instructions to make this wonder, a beautiful pattern. A full-size pdf of all sizes to help you make this quilt all seem to love this CAL pattern from Sophie's Universe. Make the size you want, the size of the blanket depends on your purpose and where you will use. Link to the free pattern below. If you want to learn even more about mandalas we have a good tip for you Mandalas to Crochet: 30 Great Patterns (Knit & Crochet).
Follow Our page on facebook Crochet & Knitting Free Patterns and our Crochet & Knitting Grurpo. We give tips weekly with Free Patterns. See you there. To make the center of this pattern I leave the pattern for you Dandelion Mandala Overlay Crochet.
Pattern PDF Free Sophie loves Lilla Bjorn Winter Blanket
Access Patterns: Dedri Uys Sophies Universe CAL 2015