All love crochet dress, leaves the baby more delicate and feminine. I think it is very beautiful and delicate, who does not like a dress does not it ?. Other people have asked for crochet baby dresses and here it is, here is an example model for all of you to practice and do wonders with your hands, this pattern will leave you more in love with this world of crochet and for these dresses that is a grace.
A piece like this is great to have in your store, because they always enchant those who seek. Being able to give as a present, imagine giving yourself a present made with your own hands, it is very rewarding for us. So make sure that the end is amazing. The practice takes more and more to perfection, I will always look for patterns of dress for you to innovate and to have more patterns of dresses of babies to train.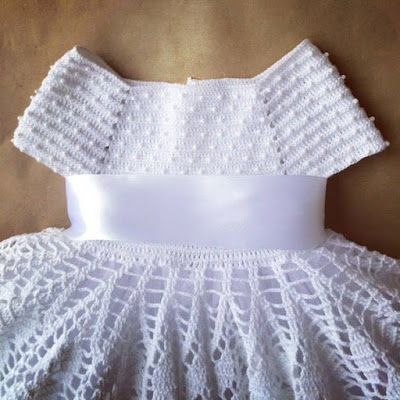 You can make the color you want and prefer, can make whole one color or put two colors; the dress of a color and the bar and details of another color, can put some laces, ornaments and even ribbons. Use your imagination and do your best and with love. Good work for you, use the chart below and I hope you like it as I do.