Criss Cross Blanket Pattern
The Criss Cross Blanket Pattern is very popular on decoration, as it is a very charming option. It is an excellent choice to make to match your decor. And it will surely leave your guests amazed with these beautiful and variated colors.
For a long time this beautiful piece has been used to make the atmosphere cozy and at the same time decorated with elegance and delicacy. Due To Its Beautiful Rainbow Colors, It Matches Anywhere In Your Home, Any Decoration.They are very beautiful to decorate not only your kitchen, or your dining room, or your pantry, but your rooms and balconies as well.
 They bring beauty to the decor of any environment and can bring you income if you decide to sell them. Besides, all crochet work is beautiful, charming, graceful and delicate, don't you think?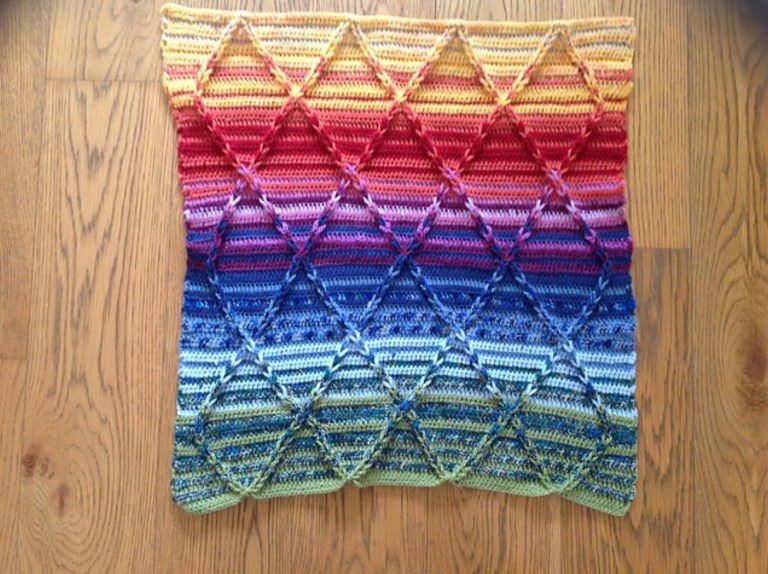 Abbreviations: lp = loop, ch = chain, sk = skip, sc =single crochet, dc = double crochet
Row 1: You will create 13 pairs of double crochet and a 12 loops. Double crochet after 3
chains and do the same after 8 chains. You should create 253 chains alike.
Row 2:
Dc in next 9 dcs, ch 10, sk 10 sts, * dc in next 10 dcs, ch 10, sk lp, repeat from * , ch 3,
turn. Repeat Row 2 until there are 116 rows. Fasten off.
To finish lps: Start at bottom of afghan and with fingers pull 1st lp over the 2nd lp, pull
2nd lp through, 2nd lp over 3rd, 3rd through. Repeat to end, fasten last 2 loops together
with safety pin. (Be sure all loops go in same direction.)
1/2
Finishing: Sc in each dc across top, 2 scs in each lp (remove safety pins as you go). Across
bottom sc in 10 dc, * ch 1, sc in 10 dc. Repeat from * to end, fasten off.
Fringe: Cut 10 inch lengths of yarn, fold in half. Knot on folded strand in each ch at top
and bottom, trim fringe evenly.