Crochet Strawberry Bag, delicate and colorful, is perfect for that day out with friends on a sunny afternoon. With a relaxed look, jeans and good sneakers. A craft work in the art of crochet that shows the versatility of needle art. When you finish this beautiful bag, you will be able to present the family with love and thus show the beauty and usefulness of art work. This is a beautiful accessory full of charm and style that I'm sure you'll love.
It can be used to go out with friends, go to the mall with friends and even for a walk with the boyfriend or husband. Following the tutorial we brought you today you will be able to make this beautiful bag full of strawberries with ease. Taking advantage of the technique to make these types of differentiated products fills us with joy.
Especially for those who make a living selling handicrafts, the variety of products is very important and this is another option for sales due to its exclusive air and for being a very elegant and charming bag. It can also be an excellent gift for that dear friend that you know will like this bag for being different and unique.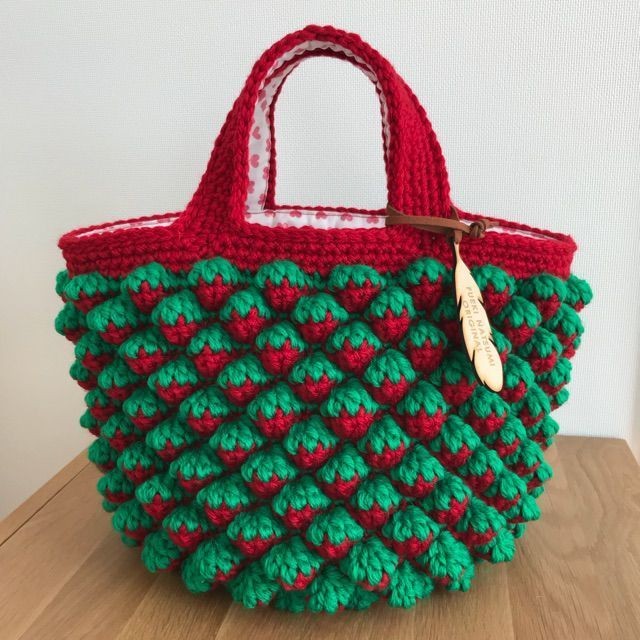 See Also:
➽ Crochet Stripped Rug
➽ Crochet Hexagon Blanket
➽ Crochet Table Cloth Doily
Crochet Strawberry Bag
Medium FINISHED SIZE 9 inches in diameter MATERIALS Balinese Cotton Yarn (fine/sports ) weight yarn (100g per ball), can be substituted with mercerized cotton Green : 1 ball Red : 1 ball Size F/2.5 mm crochet hook or size needed to obtain gauge Yarn needle GAUGE 7 scs = 1 inch
Crochet Abbreviations
Ch = Chain
SlSt = Slip SBtch
Sc = Single Crochet
Dc = Double Crochet
Sc5 tog = Single Crochet 5 stitches together
LATVIAN BEGIN
Rnd 1: With Red yarn ch 15 multiple of 4 to 3. Ch 1 sc in each chain across.
Rnd 2: Ch 1.3 sc. In the next 3 st. 5 DC shell in the 4th st. 3 sc in the next st. Repeat from beginning to end. Finish the last SlSt with green yarn. To change the color without cutting the yarn.
Rnd 3: In this row we will hide the red yarn behind the stitches crocheted with green yarn. In each change of color continue.
Rnd 4: With Red yarn ch1. Sc in the last st. 5dc in the second dc. 3 sc in the next 3 st. Repeat from beginning 2 more times. 5 dc in the next st. 1 sc in the last st. Finish the last sc with green yarn to change colour. Hide the red yarn behind the stitches to avoid cutting the yarn.
Rnd 5: Repeat Rnd 2
Rnd 6: Repeat Rnd 3
Rnd 7: Repeat Rnd 4
Rnd 8: Repeat Rnd 5
Rnd 9: Ch 1. Sc in each st across making a total of 15 st.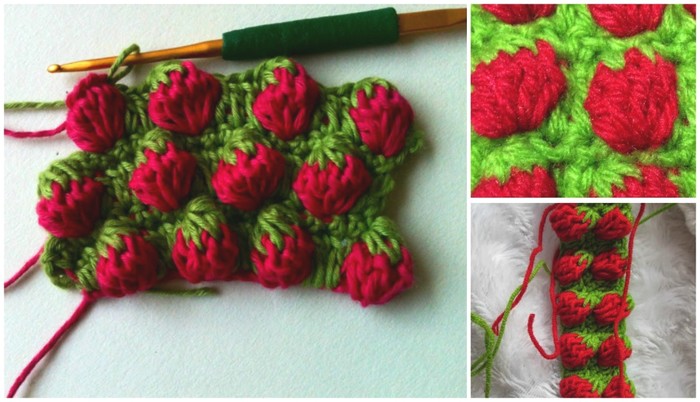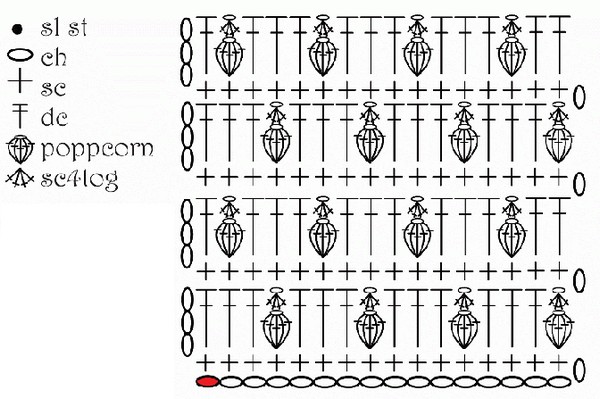 Our Team's Opinion About This Pattern
Crochet Strawberry Bag, a perfect piece to Help you carry your items with you and even to match your look, which is very good!! The colors of this piece and the beautiful strawberry stitch will give you an amazing look that will leave you amazed by its result, it will certainly be perfect for you, this will surely make your customers want one like it, which will help you in sales!!
Want to make this amazing Crochet Strawberry Bag? So it's simple, set aside all your material and tools before starting your piece so that you already have everything close at hand, so it will be easy to carry out this project, follow the tutorial carefully, make your piece while following the tutorial and I I am sure that you will be able to make this beautiful project easily.