Amigurumi Bunny – Crochet Free Pattern
With Easter coming, how about making crochet bunnies to decorate your home? This is the Amigurumi Bunny, a very cute crochet pattern that will win over everyone. It is very common in festive seasons for us to decorate our home with special items. You can use this bunny to decorate the living room, the backyard where the children look for the decorated eggs, use it in the decoration of the table to have a super special meal.
They are so beautiful that they can be used to decorate the baby's room. If the decoration theme is animals, take the opportunity to make this sweet bunny. Amigurumis may look super difficult, but they're not. Also, not suitable for beginners in the crochet technique, because you need to make different shapes, increase and decrease stitches.
It's good to have a little practice before starting projects like this. Read the pattern and test. If you understand what you're asking and remember from other pieces that you've done it, it's much easier. Sign that this pattern is for you too. If it's still starting, save it for future projects. Practice this beautiful technique and gradually increase the difficulty of your projects.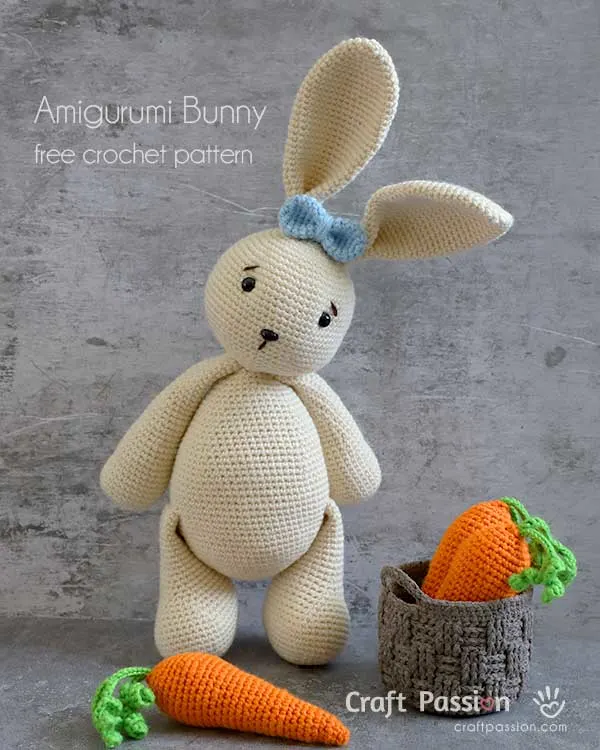 Image Pattern Tutorial: Craft Passion
You will be very proud of your progress. To make the amigurumi bunny you will need the basic materials, yarn, eye button, safety nose, polyester fiberfill. In addition to common tools such as pins, crochet hook, needle, scissors. The complete pattern is available from Craft Passion.
List of materials and tools, step-by-step runs, yarn suggestions. The bunny is made in separate parts and at the end, sewn together to assemble the cutest bunny you've ever seen. Choose quality yarn for this project, kids will want to play with the bunny. Good yarns tend to last longer. We are sure it will be a hit in your home. So, let's crochet?