Bobble and Fringe Crochet Pillow – Free Pattern
Hello my darlings! Good to see you here again. We look forward to sharing new ideas with you. The Bobble and Fringe Crochet Pillow is one of them. Cushions are an example of how something cheap can completely transform the face of a room. Colors, models, formats, textures. The options are many! And how about if they are crochet?
You can sew with the preferred stitch, with the thread that you think is the most beautiful and with the desired color. The market offers a few options: synthetic yarns (acrylic, nylon and polyester), natural yarns (such as cotton and bamboo), animal yarns (such as cashmere wool), knitted yarn and string. You can even make outfits, and compose the decoration of the environment with colors that match each other.
Or, make several pieces, little by little and without haste, and give gifts to loved ones on different commemorative dates during the year. There are lines of different weights and textures. If you have pets at home, especially cats and dogs, and they have access to pillows, invest in a thicker, more resistant thread, such as string. Today's pillow pattern is very interesting because it mixes different textures and stitches.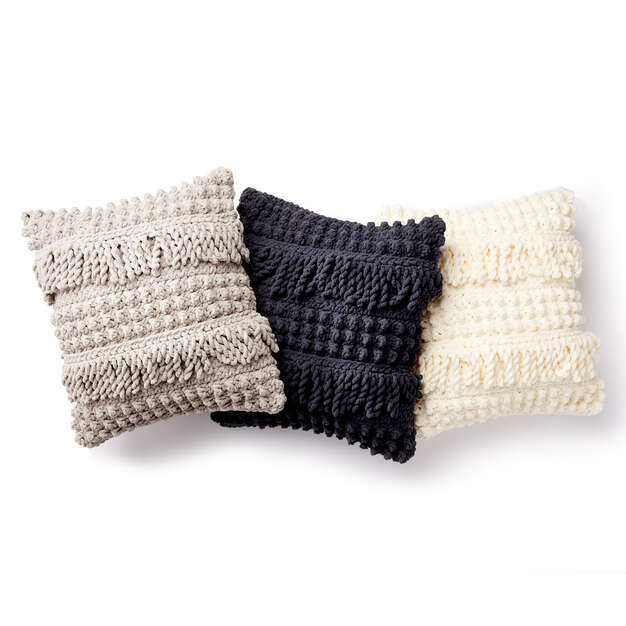 Image / Pattern / Tutorial: Yarnspirations
You will learn several techniques in a single pattern and can reproduce, adapt in other pieces as well. Yes, you will spend a little more yarn for the fringes, but it's worth it for the final result. Following the pattern, in the end you will have a pillow of approximately 20″ [51 cm] square. It is worth remembering that the measurements depend on the yarn you are going to choose, the crochet hook you are going to use, how yours is. work, tighter or looser stitches.
This is normal and will always happen, there is nothing wrong with your piece. If you want to make different sizes of pillows to complement the decor, the crochet is very easy to change. Increase or decrease the stiches or the number of rounds. Ready to start crocheting? The bobble and fringe pillow pattern is available at Yarnspirations. Read the pattern first, see if you have everything you need and let's crochet!