Baby Mary Janes – Free Crochet Pattern
Hi my loves! Another beautiful day for all of us. We hope to find you all well, healthy and eager to learn. During these days that we didn't appear here, we continued testing and separating new patterns to share with you. Thinking about making our little ones more comfortable, come learn Baby Mary Janes with us. This pattern is the most beautiful thing, with different details that make the shoe even more attractive.
The double strapped helps a lot when attaching the shoe to the little ones. The most common thing is that they take it off or fall in the middle of the way and we can't find it anymore. With the straps it stays on the foot, but without squeezing or making it uncomfortable. That's because the crochet pieces are very malleable, they don't squeeze the baby's foot, or affect the movement.
If you have doubts about the size, you can always measure the "sole" of the shoe. This is the first part you are going to do. Size ok? Just continue following the steps that are described in the pattern. The artisan used two colors to make the baby mary janes. You can follow the same design, make it with a single color, make the strap colored. Use and abuse of your creativity.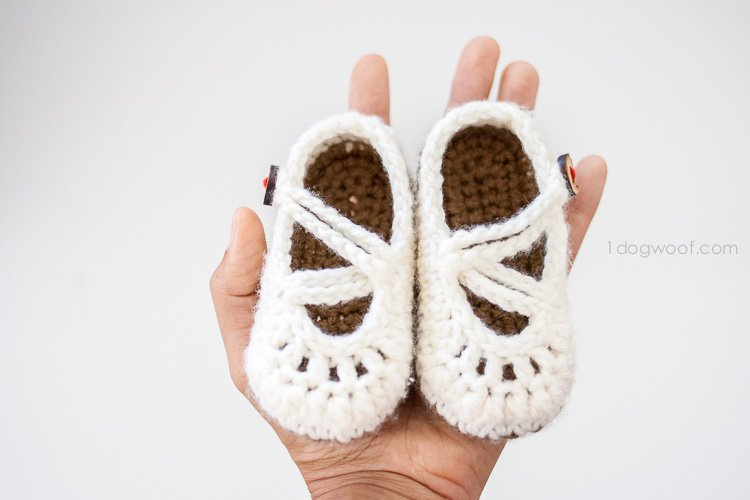 Image / Pattern / Tutorial: One Dog Woof
On the side of the shoe we need a button to attach the strap. When buying the button, remember that we are making it for a baby. Don't choose anything that could hurt you, that is sharp or rough. As for yarns, you can use a thicker one if you want a shoe for colder days, a thinner yarn for milder days. But remember that the result changes according to the yarn chosen, but you already know that. Now let's crochet.
The first stitch following a chain in each round is worked into the same stitch as the chain (chain does not count as a stitch). The baby mary janes pattern is available at One Dog Woof. Read it a first time, sort out the materials and then start crocheting. Was there any doubt? Ask us here in the comments. We will be very happy to have this exchange with you. If you want to learn something that I haven't shown up here yet, let us know too. All ready? Let's crochet!