The Sunny Cardigan, perfect for many occasions when you need a special touch in your look to complete the beauty. It can be done in different ways and with different colors too, which can help you a lot because it will give you infinite possibilities. This crochet piece is very beautiful and can be made very easily and with little material, which is of great help. A perfect piece for many occasions and that will surprise you with its incredible charm.
This is a very interesting piece, which can be combined with informal clothes, such as jeans, T-shirts, shorts and more, which is very good because it gives you an incredible variety of looks. It can be done in various ways and with various embellishments, which can help you even more. The color is also up to you, choose the ones that best match your wardrobe.
Joker piece between the models, it can be used in the days of less intense cold and it is a simpler option that can be used in many different occasions, which helps a lot. This type of Cardigan is the most used in the days of less intense cold and can help you a lot to stay warm.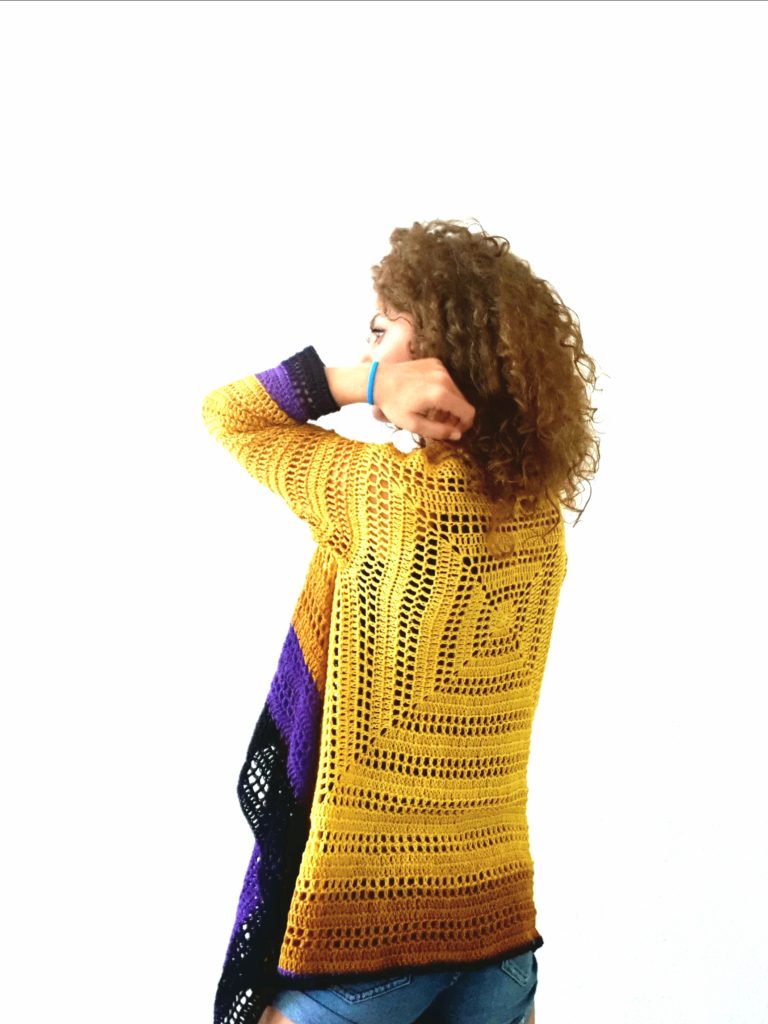 The Sunny Cardigan
Pattern/Images/Tutorial by: By-Katerina
The pattern is available for sizes from S to XXXL
Yardage
For this cardigan you will approximate need:
S – 1120 m / 1225 yds
S – 1120 m / 1225 yds
M – 1200 m / 1320 yds
L – 1280 m / 1400 yds
XL – 1360 m / 1500 yds
XXL – 1420 m / 1550 yds
XXXL – 1510 m / 1650 yds
The recommended yarn weight is 12 ply, Sport Yarn or 14 ply fingering.
Hook size : 4mm ( G )
Gauge
16 dc = 10 cm (4″)
9 rows = 10 cm (4″)
Let's talk about the yarn a little bit more. I used Cotton Kings Twirl and for the purple and black stripes, fingering cotton.
At first I thought that one Twirl will be enough for my size, but I realize that it won't, so I came up with the purple and black stripes which I love.
The Twirl that I used is with no colors change, only one color with gradient shades. I choose to use only one twirl and other colors.
Above you have the total amount of yarn that you will need for this cardigan.
One Twirl has approximate 800 m / 875 yds. Is up to you if you choose to work with 2 twirls or with a single one and choose another yarn for the rest.
Abbreviations:
Ch – chain
Dc – double crochet
St (s) – Stitch (es)
dc2tog – 2 double crochet worked together
sl st – slip stitch
The stitch pattern is easy to follow. 2 solid rounds worked in double crochet and 2 rounds worked in filet stitch.
Filet stitch
1dc, ch 1, skip 1, 1dc
Here is the chart with the stitch pattern and how it's worked in a square.
FULL POST WITH IMAGES ON THE AUTHOR'S WEBSITE
What Our Crew Thinks About The Sunny Cardigan
An exceptional Cardigan that will amaze you, the incredible look that this wonderful cardigan will provide will make you realize how we can create amazing pieces using our hands, and of course, crochet, which is what encourages us and helps us to create these beautiful pieces that enchant everyone for their beauty and charm.
Want to learn how to make The Sunny Cardigan? Then follow the tutorial available here, I'm sure you will love the result of this beautiful cardigan and the looks it will provide you, as they are incredibly charming and will leave anyone in awe. By following the tutorial carefully you can learn how to make this beautiful cardigan in a simple, quick and easy way.