The Waffle Cardigan Crochet
The Waffle Cardigan Crochet is a piece inspired by the coat that is very popular today due to its beauty. There are several models of it, being of different choices, accompanied by zippers, buttons and sometimes also and made only open. This crochet piece is very beautiful and can be made very easily and with little material, which is of great help. A perfect piece for many occasions and that will surprise you.
This is a very interesting piece, which can be combined with informal clothes, such as jeans, T-shirts, shorts and more, which is very good. And whatever your creativity desires, which is great. The color is also up to me, choose the ones that best match your wardrobe.
Joker piece among the models, it can be used in the days of less intense cold and is a simpler option and that can be used in place of the blazer, which also helps. This type of Cardigan is the most used in the days of less intense cold and can help you a lot.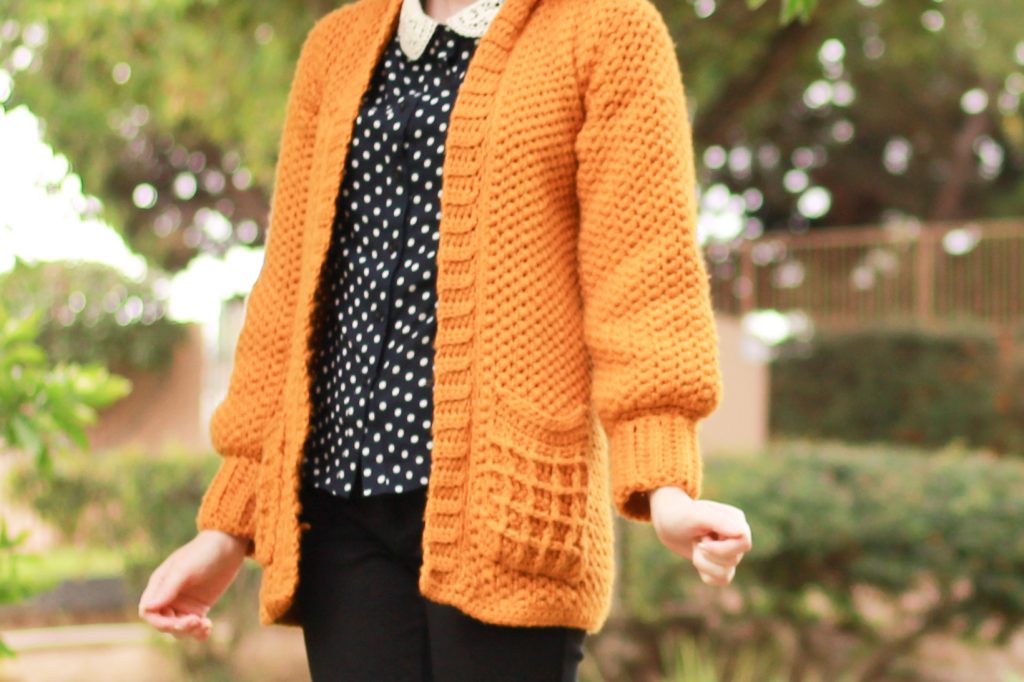 The Waffle Cardigan Crochet
Tutorial/Pattern/Image: Casale Crafts
Materials:
5-10 balls of

Loops and Thread Impeccable Yarn in Gold

6.00 mm Crochet Hook
Yarn Needle 5-10 balls of
Optional Steamer (for blocking)There are going to be a few personal measurements that you will need to get, and then do a little bit of math to compensate for some growth as you work into your foundation chain as well as when you block your project. I used a steamer to block my project and it didn't affect the quality of my yarn, however be sure to be careful when using acrylic yarn as it is flammable. You can choose any method of blocking that you prefer though.
**Important Note**
When you begin working into your foundation chain, it should increase approximately 2″ in width.
When you block your work it should increase approximately 3″ in width and 1″ in length.
Because of this when you are creating your foundation chain you should subtract approximately 5″ from the chain as it will grow back those missing inches over time, and then you should subtract approximately 1″ from your length measurements.
Measurements:
Underarm to Desired Length (minus 1″ for blocking)
Bust (minus 4″ for ribbing) (minus 5″ for blocking/foundation)
Underarm Width
Underarm to Top of Shoulder (minus 1″ for blocking)
Top of Shoulder to Wrist (minus 3″ for ribbed cuffs) (minus 1″ for blocking)
Abbreviations:
SC – Single Crochet
SS – Spike Stitch
DC – Double Crochet
HDC – Half Double Crochet
FPDC – Front Post Double Crochet
We are going to begin the cardigan by working the main body section. This will be a square/rectangle comprised of your "Bust Measurement" X "Underarm To Desired Length Measurement"
FULL POST WITH IMAGES ON THE AUTHOR'S WEBSITE
What Our Crew Thinks About The Waffle Cardigan Crochet
An exceptional Cardigan that will amaze you, the incredible look of this wonderful cardigan will make you realize how we can create incredible pieces that help us a lot only with our craftsmanship skills and our hands too, and of course, crochet, which is what encourages us and helps us to create these beautiful pieces that enchant everyone for their beauty.
Want to learn how to make The Waffle Cardigan Crochet? Then follow the tutorial available here, I'm sure you will love the result of this beautiful cardigan and the looks it will provide you. By following the tutorial carefully you can learn how to make this beautiful stitch simply, quickly and easily.