Sage Stitch Long Cardigan – Free Pattern
Hey loves! Another week starting and we will be here every day to bring you a new pattern. We hope you can feel all our affection and dedication on the other side. We look for patterns that are always complete, with all the tips to guide you through the entire project. The Sage Stitch Long Cardigan is just like that. A super elegant piece that makes all the difference in your look and, believe me, it's not hard to do.
For those who follow the fashion world and love to follow fashion trends, you may have noticed that looks with crochet pieces are increasingly common, and one of the options is the long crochet cardigan. Whether for winter or summer, it is versatile and is a sure choice to complement the look. This piece is seen as an addition to the look, so in winter, you should wear it with a warmer piece underneath.
Many people prefer more basic colors for these pieces, because they are easier to match and they look just as elegant. Whether the piece is black, white, grey, brown, beige, it will look amazing. The important thing is to never compromise on the quality of the materials you choose. As for sizes, in the pattern you will find six different sizes. With measurements, you can fit the best size for you.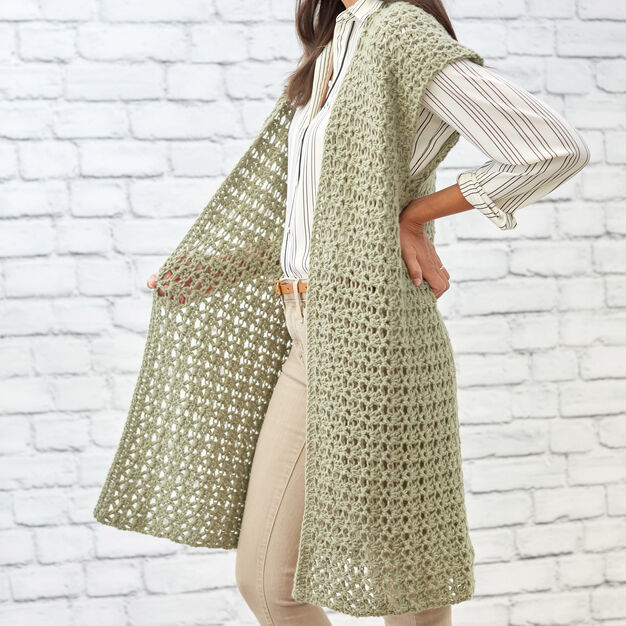 Image / Pattern / Tutorial: Yarnspirations
The height is the differential grid of this piece. So if you need a smaller measurement, but it's not that tall, just don't do all the rounds indicated for that size. It's very simple to make the adjustments, you'll see. The Sage Stitch Long Cardigan complete pattern is available at Yarspirations. The patterns are very complete, with abbreviations for you to understand what each one means, the measurements and the materials used.
We always recommend that you read the entire pattern a first time before crocheting. We know that anxiety asks you to start crocheting soon, but read it first, you will see how it makes a difference. If you still have any doubts, let us know in the comments. Remember that you can always count on us, whether to give your opinion, ask questions or send us suggestions. Let's crochet!