Children's Houston Hoodie – Free Pattern
Hey loves! Too excited to learn a new pattern? Our team has separated a beautiful model for you to make for the kids. The Children's Houston Hoodie is a beautiful sweater that you can make, all in crochet. In the same pattern you will learn different sizes, from 2 to 12. The crochet technique is very cool and versatile, but you already know that. With this pattern you will learn how to make the sweater and the hood.
It is the most beautiful thing and is very comfortable. If the child is not used to wearing caps, the hood is an excellent alternative to keep them protected on the coldest days. Choose thicker yarns for these types of patternsif you pretend make them for even colder days. Depending on the yarn chosen, it is normal to notice some changes in the final piece.
In addition, the crochet hook and who is doing it change the yarn's yield. You can make it with the color that the little one prefers, you can even make it colorful, if you have a little more experience to change yarn. Let's talk about some important notes for making children's houston hoodie. Starting chain does not count as first stitch unless stated otherwise within the pattern.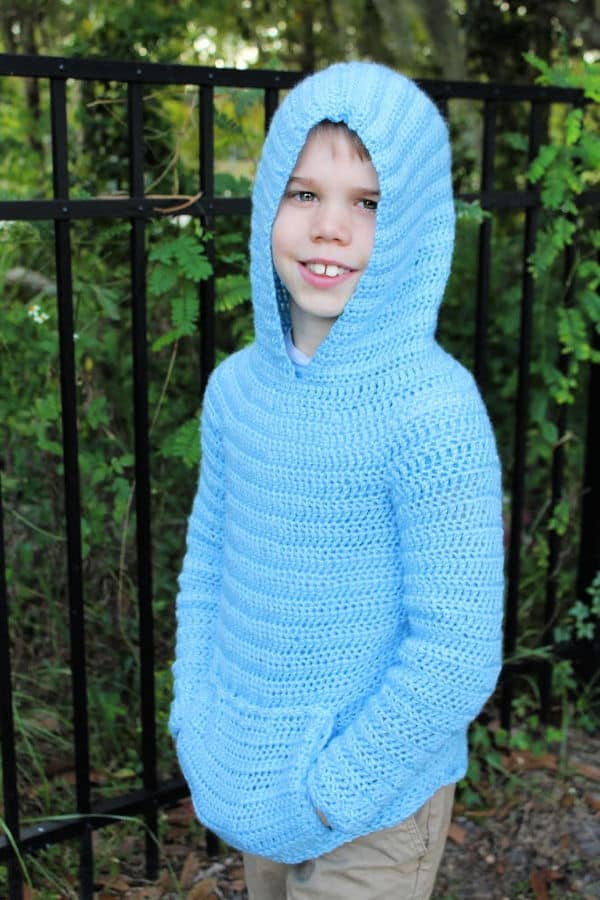 Image / Pattern / Tutorial: Two Brothers Blankets
You will have a slightly slanting seam on the back of your sweater. Garment is worked from the top down, with hem, sleeves, and hood added at the end. Hem and sleeves are worked in the smallest size with additional sizes in parentheses. Stitch count for all sizes will be in parentheses at the end of each round/row. Ready to crochet? Here are the materials you will need:
580 – 1100 yards worsted weight (#4) yarn;
H (5.00mm) crochet hook;
scissors;
measuring tape;
Yarn needle 2 stitch markers.
The amount of yarn varies according to the size you are going to make. But it's always good to have some leftovers, a little extra. The pattern is available in Two Brothers Blankets. Read it for the first time, choose the size, your yarn and then just crochet. Take it easy, taking advantage of this moment. And if you have any doubts, let us know in the comments.