Barcelona DROPS Crochet Jacket
Barcelona DROPS Crochet Jacket, simple and easy to make, is perfect for anyone who is starting out in the art of crochet and making very beautiful pieces for the whole family that I am sure they will love. With the arrival of the cold these woolen pieces are perfect for making various wonders with your own hands and thus save a lot. This piece is simple and using this beautiful stitch, very easy and simple to make, you will be able to make this piece easily !!
With little material it is very practical and combines with several pieces of your wardrobe, such as a beautiful cap and with the arrival of winter it is necessary to have these warm pieces to compose our look for work or until the weekend between friends in the clubs or in the afternoon of stroll, because it is in those occasions that we need one of these.
The color is just a suggestion, choose the color that suits you best and that best matches your other pieces in the wardrobe so you can use this beautiful jacket with different types of look and assemble several different ones for you to use. Thank you for visiting our website.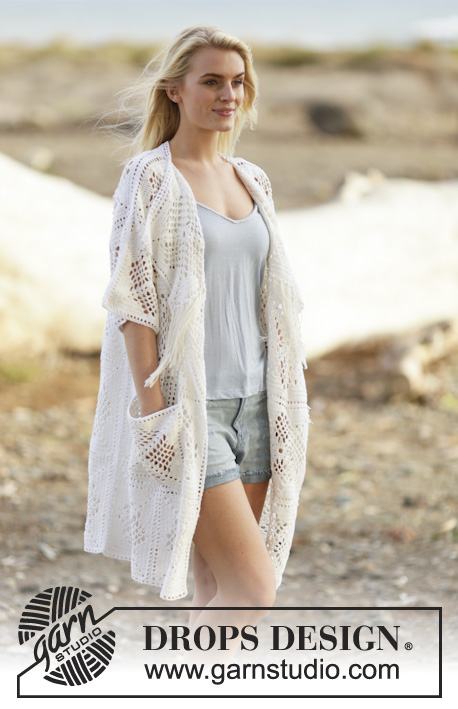 See Also:
➽ Flowers Crochet Pattern
➽ Crochet Entrelac Stitch
➽ Gorgeous Poncho In Crochet
Barcelona DROPS Crochet Jacket
Pattern/Images/Tutorial: Garn Studio DROPS design
Size: S/M – L/XL – XXL/XXXL
Materials:
DROPS SAFRAN from Garnstudio
800-900-1000 g color no 17, white
DROPS CROCHET HOOK size 3.5 mm/E/4 – or size needed to get 22 dc x 12 rows = 4" x 4" (10 x 10 cm). 1 crochet square measures approx. 22 x 22 cm / 8 3/4″ x 8 3/4″.
NOTE: This pattern is written in American English. All measurements in charts are in cm. For conversion from inches to cm – click here. There are different terms for crocheting in American and British English. If this pattern includes crochet, click for "crochet terms" here. For this pattern in British English, please click here.
PATTERN:
See diagram A.1.
CROCHET INFO:
Replace first sc at beg of every sc round with 1 ch. Finish every round with 1 sl st in ch from beg of round.
Replace first dc at beg of every dc round with 3 ch. Finish round with 1 sl st in 3rd ch at beg of round.
FRINGES:
1 FRINGE = Cut 2 lengths of 40 cm / 15 3/4" each. Fold them double and pull loop through ch-space. Then pull yarn ends through the loop. Cut fringes to a length of approx. 19 cm / 7½".
———————————————————-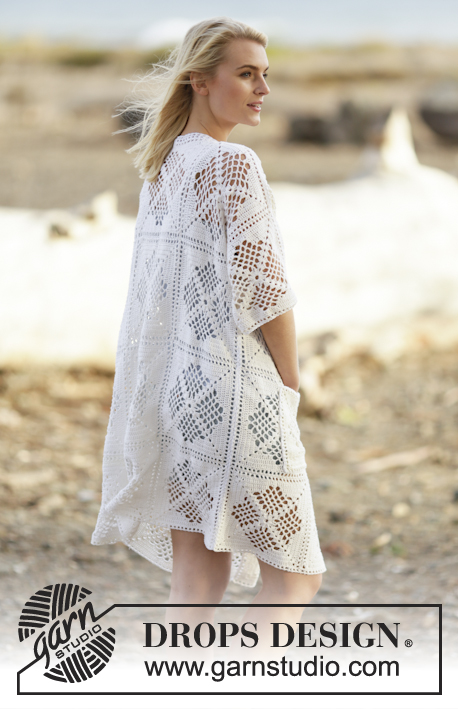 Our Crew Opinion About This Incredible Barcelona DROPS Crochet Jacket
This wonderful jacket is amazing and if it's worn in your look I'm sure you will be rooted! I'm sure you will love the looks it will give you, and you can still make others in other colors. With a beautiful stitch and wonderful colors that can be changed according to your will!
Do you want to make this beautiful Barcelona DROPS Crochet Jacket to give your look up? So follow the tutorial we brought you here today and I'm sure you'll be able to make this beautiful Barcelona DROPS Crochet Jacket easily, everything will be amazing! This piece is simply wonderful and will serve you very well!