Anabelle Sava Top a piece inspired by the coat, in the current fashion it has brought a great prominence for women and has been used a lot. There are several models of it, being of different choices, but all following a pattern, having its opening on the front, accompanied by zippers or buttons, sometimes also and made only open. This crochet piece is very beautiful and can be made very easily and with little material.
This is a very interesting piece, which can be combined with informal clothes, such as jeans, T-shirts, shorts and much more. And whatever your creativity desires, which is great. The color is also up to me, choose the ones that best match your wardrobe.
Joker piece between the models can be used in the days of less intense cold and is a simpler option and that can be used in place of the blazer, which also helps. This type of blouse is the most used in the days of less intense cold.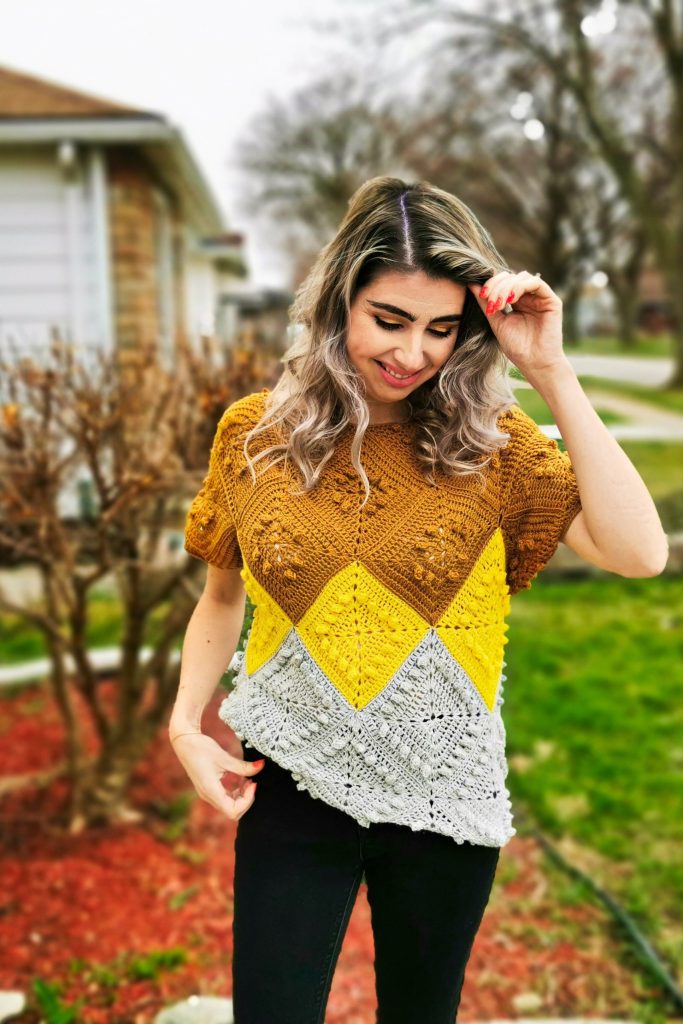 Anabelle Sava Top
Pattern/Images/Tutorial: Coco Crochet Lee
Yarn
WeCrochet Stroll Fingering Weight (231yds/50gs): 1 (1, 1, 2, 2, 3, 3, 3, 4) balls #25024 Dandelion (A), 3 (3, 3, 3, 3, 5, 5, 6, 7) balls #25023 Dove Heather (B), and 3 (3, 4, 4, 4, 7, 7, 8, 10) balls #28182 Treasure (C).
Materials
US Size G/6 (4mm) crochet hook, yarn needle, scissors.
Sizes/Measurements
Sizes XS (Sm, Med, Lg, 1x, 2x, 3x, 4x, 5x)
Bust 35 (35, 40, 45, 45, 55, 55, 60, 65)"
Gauge
Finished Square Measurements
Measuring across square from top left corner to bottom right corner will measure 7 (7, 8, 9, 9, 11, 11, 12, 13)" diagonally across.
Special Stitches
Popcorn St = Work 5 double crochet (dc) stitches in the same stitch. Drop the loop from your hook. Insert your hook from front to back under the top 2 loops of the first double crochet of the group. Grab the dropped loop with your hook and pull it through the stitch. One front-popping popcorn is complete.
Notes
Top is worked in square motifs that are assembled to create the finished garment. Use diagram to create Front and Back panels, and follow joining instructions to add the shoulder pieces, as well as the underarm pieces which don't lay flat, they curve with the shape of the shoulders/underarm to create a bell sleeve. 
Different sizes are achieved by adding additional rounds/rows to each motif to increase measurements. The same number of motifs are worked for every size. 
Be VERY careful not to miss the first dc on the side right after a corner. 
FULL POST WITH IMAGES ON THE AUTHOR'S WEBSITE
What Our Crew Thinks About The Anabelle Sava Top
An exceptional Cardigan that you will surely love, the incredible look of this wonderful cardigan will make you realize how we can create incredible pieces that help us a lot only with our craftsmanship skills and our hands too, and of course, crochet, which is the that encourages and helps us to create these beautiful pieces that many love.
Want to learn how to make the Anabelle Sava Top? Then follow the tutorial available here, I'm sure you will love the result of this beautiful cardigan and the charm it will give you. By following the tutorial carefully you can learn how to make this beautiful stitch simply, quickly and easily.