Hello friends of the crafts that we love .. how are the projects? The year is ending so we need to organize and prepare new patterns for next year. You can still do some patterns this month if they are easy and fast. Today the subject is about crochet, a simple, fast crochet pattern that has a wonderful designet because of its texture. It is a beginner level pattern so take the time to make a beautiful blanket and get over it in crochet. It is very gratifying to do something with your own hands and see the fantastic result.
Today I bring a pattern of crochet that you will like to learn how to do, it is simply fabulous and textured that looks so beautiful the result is very gratifying. I have shared full pattern, great designs but today I want to share with you a point that can make beautiful patterns, a fun point to crochet as well as Crocodile Stitch that are easy and textured stitches. As well as several others that I posted here and liked, I'm sure you'll enjoy it too. It's time to learn a new crochet stitch!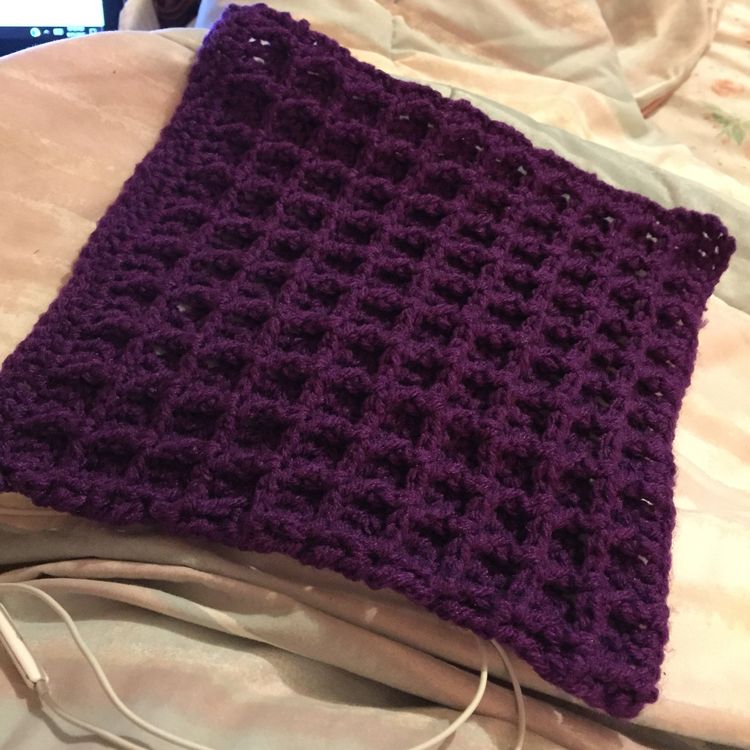 The pattern that I share with you today is the so-called Waffle Stitch, it is a well-known point of easy level and it is a classic, its appearance is textured and the result is wonderful. It is a pattern that never goes out of style, it is always welcome. So get your stuff, your yarn and your hook and let's go. The Waffle Stitch is fun, textured crochet stitch and very easy to make than it looks!
About Pattern
This point can be done several things like for example sweaters, handbags, blankets, blanket for couch, blanket for baby, aghans, covers of cushions anyway what you want and prefer to do, because with this point we can create numerous things. When you finish take a picture and send us, I like to see the result of people.
This crochet stitch is made up of a double crochet and double front crochet. It has a beautiful design, looking intricate. It looks like a waffle. The size of the finished blanket is 35 × 37, but if you want to make a bigger blanket is simple, simply increase the amount of potos and chains in the beginning, you can do in any size using the multiple of 3 + 2. make from a baby blanket to a blanket to a king size bed!
About color, you can use a solid color as it will help to see the points better. But if you have more practice and know how to drive and make a pattern with more core, go ahead and do a beautiful job. One tip for use is the Caron Cake yarn, it's a very good yarn. The best about pattern so it is that you can use the color you would like, create a blanket by changing color.
I leave you the video tutorial with step by step how to make this pattern so that you can learn and practice and thus start your new project, also share the pattern written in PDF form so that you can also print, and a site with another step by step showing how to make the waffle point. Based on this point you can create several things.
Follow our facebook page on Crochet & Knitting Free Patterns and our Crochet & Knitting Grurpo. We give weekly tips with Free pattern. I see you there.
      Pattern PDF Written ☞ Waffle Stitch Blanket Pattern
Pattern Step by Step 2 ☞  Waffle Stitch Blanket Pattern