The Crochet has grown a lot in recent years, modernizing more and more. Formerly it was a pastime only of older people, or grandmother's thing, who sat in his rocking chair on the porch or in his living room and would spend hours there crocheting, creating beautiful pieces with his hands, and most of the pieces giving as gifts for his children and grandchildren, he made pieces like cardigans, scarves and blankets, and gift giving was what they loved. But nowadays crochet has been acquired by people of all ages and even men now do wonderful crochet.
Besides being a hobby, it has also become something therapeutic as it is indicated to treat people with depression, anxiety in the end, only brings benefits. Each time the time passes new patterns of crochet are created and modernized, so always stay fashionable and tall, never gets left behind. The crochet has had a strong tendency, either in decoration or in the wardrobe of women and children.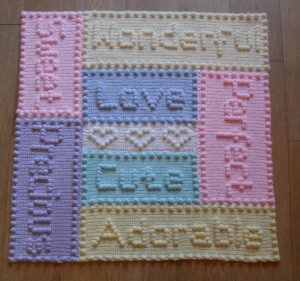 The free crochet pattern left here is on a crochet alphabet letter blanket. Used in all seasons, they are great for kids to learn the alphabet and faster to become a joke and to record more letters. Having two functions, warm from the cold and helping in literacy. This pattern can be modified any way you want, there are numerous ways to make the pieces so leaving whatever way you prefer.
Ways to Make this Pattern
This pattern has several different ways of doing it. You can make separate letters by making a square for each letter, or you can make a cover for children with all the letters of the alphabet in one or else you can put words with the letters on a blanket as shown in the pictures as an example of pattern crochet of the alphabet with several mixed words being able to do everything in the same direction or to make the words in the horizontal and vertical as in the photo.
One can make pieces like rugs to be dynamic, can put on curtains of the baby room also decorating making mixed letters or even writing child's name, being able to make the letters of the name and putting in the door anyway .. what your imagination send because there are several ways. I love baby stuff made from crochet even more when it's made by yourself.
Below is the graphic of the free crochet pattern to use in all the letters just print or see by the same cell phone, whichever you prefer. With the graphic is much easier to do, there is only change as you want for example increase in size is only increases the number of points if you want separate letters or together forming words or if you want to mix with patterns of heart that has on this site free – Crochet bobble stitch will look lovely.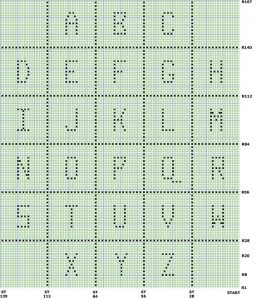 Below I leave you a video tutorial with the step by step how to make the letters, better see how it is done than just read is not really .. so enjoy all the possible information and the graph and do your wonderful work. Good luck. Also learn how to make the wonderful Charlotte's Dream Pattern or the well-known Corner to corner crochet pattern C2C.