The crochet has enchanted to all with its patterns that are updated every day more. Crochet is an excellent pastime and great for health as it improves our motor coordination and also improves our brain, memory and distracts us, being indicated by doctors. Nothing better than having a time just for you and your lines and yarn, which at every ugly spot is giving shape to a beautiful design to be made. All we have dedication, will and persistence we have achieved.
With crochet pattern we can create various things, various pieces like blankets, blankets, cushions, ornaments and quilts anyway .. whatever you want. Let your imagination flow. Crochet quilts are more common to do in crafts, in addition to rugs anyway … surely you've thought of making one. You can use crochet patterns for your room, your room or even gift someone with something made by yourself, it is very rewarding.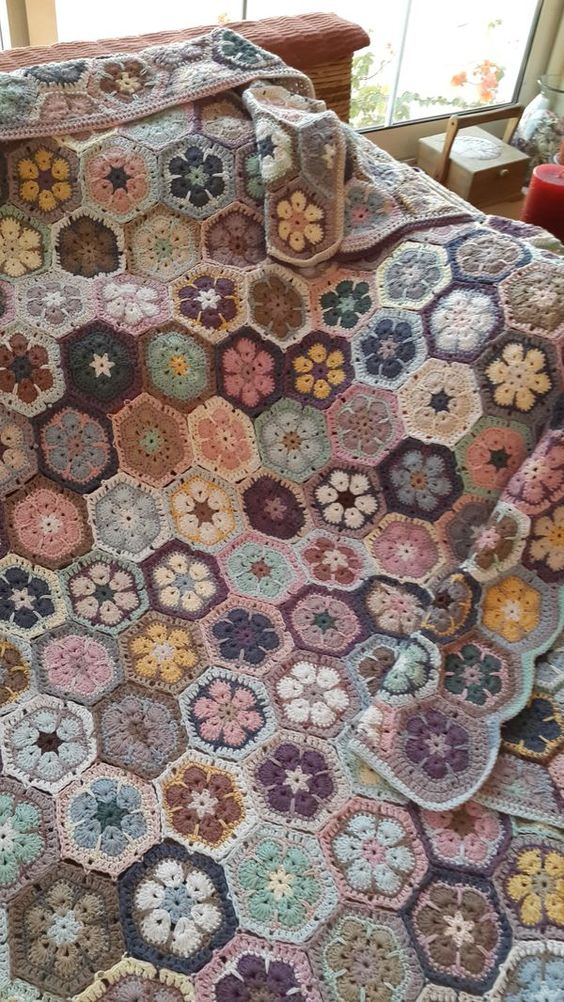 Today's pattern is about crochet quilt called African Flower Granny, which is very beautiful and has a flower design, can be made with the color you wish and find it best. It is a quilt that I look at and I already remember baby, children because it is a delicate croche pattern. The size of the quilt varies depending on how you make the hexagons and is giving the desired size, the amount of hexagons sewn. The dimension of this is : Each flower has a diameter of 7cm [2 3/4] (excluding the white border) if using the yarn indicated below.
Materials
1. acrylic baby yarn, various colors you prefer. They used Tilda, brand Svarta Faret.
2. crochet hook, 3mm
Abbreviations
node sl = sliding node
st = stitch
ss = slip point (to tighten)
ch = string
sc = single crochet
dc = double crochet
fo = tighten
Rnd = round
Pattern
Base Round – sl knot, ch 6, ss into first ch to make a ring.
Rnd 1 – ch 3, 1 dc, ch1, *2 dc, ch1, * repeat until you have six spaces and six 2dc. ss to the 3rd chain of the beginning round. fo
Rnd 2 – Change color: Start in a space. ch 5, 2 dc in same space, *ch1, 2 dc, ch2, 2 dc in next space – repeat * 5 times, 1 dc and ss into the 3rd ch of the beginning round.
Rnd 3 – ch3, dc6 in the 2-ch space, ch1, * dc7 in next 2-ch space, ch1, repeat * 5 times. ss the 3rd ch of the beginning round. fo.
Rnd 4 – New color: ch1, sc around and make a long stitch down in round 2 between each flower petal. End with ss. fo.
Rnd 5 – White: ch3, 3 dc, ch1, *dc 1 in the same st as last dc, dc 3, ch1 (skip long stitch of the previous round), 4 dc, ch1, repeat 5 times, dc 1 in the same st as last dc, dc 3 ch1, ss to the 3rd ch from the beginning round. [Note: ch1 in bold should be at the center of the flower petal, this is the corner of the hexagon].
To join the adjacent African hexagonal blocks, insert your hook into the lead point that is corresponding to the other crocheted hexagon and make an ss instead of ch.
If you want more information we have this tip, just click to  African Flower Granny Crochet.
Follow our facebook page on Crochet & Knitting Free Patterns and our Crochet & Knitting Grurpo. We give weekly tips with Free pattern. I see you there.